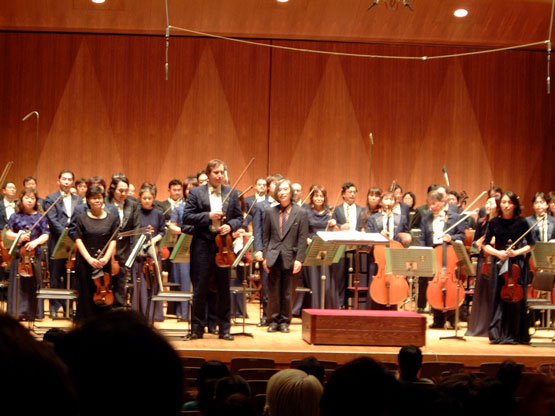 ...

"Orchestra Project 2004th". October 15,in 2004.
Tokyo Symphony Orchestra /Cond.
Kazufumi Yamashita/ at TOKYO METROPOLITAN ART SPACE.

CD order: Camerata Tokyo Inc.,Japan TEL :00-81-3-5790-5565 FAX :00-81-3-5790-5562
E-mail:camerata@rc4.so-net.ne.jp

Detail page about

Symphonic Metamorphoses (japanease)
This is the compilation of all music techniques. The biggest Symphony in the world. Chorus and Orchestra.
This is big Chorus and Orchestra Cathedral

about"Symphonic Metamorphoses"
He spent 26 years to complete this pieces of four parts, each of which was introduced separately on different dates.

The last part was completed in 1987, but the entire piece was performed for the first time in September, 1992, at Makuhari Messe in Chiba. This is one of the largest pieces of music all over the world in consideration of three hours of playing time and 700 members of instrumental players and chorus singers.


ORDER:CD

Orchestral works,various Instrumental chamber musics,chorus etc. you can take the whole Shuko Mizuno's multipl sounds in one view.
Concert Live .


COM-904161-1(DISC1)/COM-90416-2(DISC2)
¥3,150
ORDER:TEL: 00-80-47-484-2068
    E-mail:

2Discs

Multi Keyboad player HIROMI okabe plays Shuko mizuno.

BEP-0222

¥2,625


ORDER:TEL :00-80-47-484-2068
E-mail:

Symphony No.2 "SAKURA",
SHUKO MIZUNO's Fine New Romantic wrold
by various sounds.
CD

ORDER


TEL :00-81-3-5790-5565 FAX :00-81-3-5790-5562
E-mail:camerata@rc4.so-net.ne.jp


[CD] 28CM-587¥2,940

Detail

Score
Piano Suite for Four Hands

"Muse's Holiday"

SCORE & CD


Jazz Pop suite Plays merrily in couple

lListen music :By Concert Shuko Mizuno Special

CD: Piano Suite for Four Hands
"Muse's Holiday" :CD
Piano:Junko KASAHARA,Kyouko TOMODA
[CD]LMCD1743 \2,500
On sail in the midde on Dec.
Score
Many Chorus groups 's favorite song
"Good night Moon"
(Female &Mixed Chorous Version)
\800

ORDER

BCA(Best Composer's Assosiation)
TEL : 046-887-0561 MOBILE: 080-5477-5025
Email:t.kurata@pony.ocn.ne.jp
URL: http://www.bcamusic.com

CD:
SHUKO MIZUNO


[CD]COM-90416(DISC1)/ COM-90416-2(DISC2) ¥3,000

(mp3)
---Contents---
1. Aisatsu no uta
2. Dobutsu erabi
3. Kore nandarone
4. Korewa nandarone
5. OOO wa nande naku
6. Kotori ga ippiki
7. Karasukangarasu
8. Minasan sorotte
9. Ukkarabushi
10. Gochigochiyama
............. no gochikonta
11. Moshi moshi usagichan
12. Moshimoshi raionchan
13. Getsuyobi ni kayobi
14. Te o tsunago
15. Buranko
16. Oyasuminasai otsukisama
17. Kaminari to ame
18. Hokuro no uta
19. Watashi sakanayasan
20. Aki kana fuyu kana
21. Aiueo no uta
22. Sakana mitaini suisuito
24. Fuguchochin
25. Kanashii tokiwa
26. Ureshii tokiwa
27. Yama no mukouni
28. Boku no jitensha gyarakushi
29. Yare hore enya sassa
30. Ikkaime no nikaime
ORDER:to ShukoMizuno

The Tale of Himeji castle

Sensual and aestheticism music world.Kyouka I

The story which centers on Beatutiful Fairy Princess TOMI and a young warrior Zusyonosuke.
A different demensional space Sensual a, aestheticism Worl d .sumi's world.

eauty and Beast

New style Stage music-Jazz,Rock ,Bossa....verious style music assimilation.New Romanticism revives.


This is beautiful load and girl's true love story.
He sacrified his soul for Devil to get power to win the battle,thus he became ill-favored Beast ...

(minamo)

pht
Love Fairy
(origin title:MINAMO)

It deepened "Bauty and Beast" more than ever.
Act 1:A 16th years old Girl and 17th years old Boy's first love Story,In the moon light.
Act 2:Ten years passed.
A beautiful Lady comes between the married two.Extramarital relations story...